Companies have shifted to a remote work model, businesses are leveraging digital tools and technologies to drive business operations, and corporates are moving to digitization processes to deliver their services and products.
Call it the repercussions of the COVID-19 pandemic or the opportunities that came with it. Still, nothing is denying that digital transformation has become the new normal, which also holds valid for the Retail sector.
Like other sectors, retail organizations are also utilizing emerging technologies to ease their operations, deliver their products, streamline their supply chain, and provide customers with a digital customer experience.
Augmented Reality is one such emerging technology that is reshaping the future of Retail and providing businesses with a broad spectrum of benefits.
Simply put, Augmented Reality, often abbreviated as AR, refers to digitally created content in the user's real-world environment with a viewable environment where users are aware of their surroundings and themselves. It allows customers to engage with brands via a digital mode that lets them try, interact, and personalize their product virtually without being at the retail store in real-time from the comfort of their homes.
According to recent research from Deloitte, in 2020, 46 % of retailers plan to deploy augmented reality as a significant delivery mode for their products.
Such a massive figure tells us the rising significance of AR in Retail and how it impacts the customer experience of retail shopping.
Another critical research from Retail Perceptions suggests that as much as 71% of shoppers would shop more at Retail if the retailers offered AR features.
This figure is a testimony to how AR is transforming the competitive landscape of Retail, where players offering AR tend to benefit more than the ones lacking it.
Augmented Reality and Retail
Augmented Reality is benefiting Retail businesses in unimaginable ways. It has not only added to the user experience but has also helped organizations across the sectors.
Augmented Reality Examples in Recent times
In recent times, augmented Reality has been reshaping industries across sectors at a robust speed, with augmented reality companies occupying the driver's seat.
Let's look at a few examples where AR has completely transformed the game.
1.IKEA, a home furnishings retailer operating more than 300 stores around the world, has recently developed The Place App, which allows shoppers to use augmented Reality via their smartphone camera and place furniture items into their homes visually, making them understand how it would look in real-time.
The Place App from IKEA has become a game changer for Retail shoppers since its launch; it has become one of the most popular apps, with nearly 8.5 million downloads across the globe, which will only increase in the upcoming days and transform the future of shopping.
2.Another breath-taking innovation made by L'Oréal utilizes Virtual Try On, which now offers augmented reality-powered makeup try-on experiences, delivered in collaboration with Facebook, and allow users to try to use skin care products virtually from remote places, experimenting with the world's leading beauty brands, such as Maybelline, Lancôme, Giorgio Armani, Yves Saint Laurent, and Urban Decay, among others.
Such a maverick move from L'Oréal makes it count among the few organizations replicating the models of augmented reality companies and acquiring and retaining more customers.
The examples mentioned above are just a few of many leading industry players utilizing AR in their Retail business and delivering a hassle-free customer experience using Augmented reality examples.
Furthermore, based on the research conducted by United States Census Bureau (USCB), the graph shows a significant and steady increase in more consumers on the market and stronger competition with product marketing among retailers.
Recently, Photo Robot, the product photography automation solutions provider, surveyed retail shoppers on the significance of AR in their lives and reported the following.
At least 47% of users use AR apps for in-person and online shopping.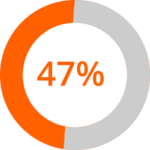 Another 71% of users are likely to shop more often if retailers provide AR features.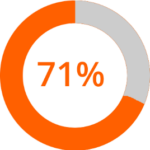 Source: https://www.photorobot.com/
The above figures show the rising penetration of AR in the Retail industry, which not only allows retail players to take actionable insights based on real-time customer experience but also caters to the customers' needs, who mostly prefer the retail payers with AR for their hassle-free retail shopping experience.
Future of Augmented Reality
With the way Augmented Reality has been transforming businesses across sectors, it won't be wrong to bet upon the fact that the future of Augmented Reality, especially in the Retail industry, will be even more promising.
The most crucial reason AR is the next big thing ruling the market is its ease amongst Millennials and Gen Z generation, where the rising advent of smartphone users and penetration of the internet with easy access to everyone is putting the future of Augmented Reality in safe hands.
"The great thing about augmented reality is there are already over a billion smartphones in people's hands that can be used to navigate these 3D extended experiences."- Kathleen Cohen, Extended reality strategist, XR development consultancy.
Now, the question that beckons most of us is how prevalent AR will be in the future, especially in remote areas where awareness of AR is still in the nascent stage.
However, retail companies are getting aware of the significance they hold once they incorporate AR into their business operations. For that, they are already into awareness campaigns amongst users. We also expect a higher number of AR among retail players in the future, which looks very promising now.
Conclusion
AR is the next big thing in the market, becoming more imperative when discussing the retail industry.
From industry experts' comments to figures suggesting the Retail growth players are bound to attain with AR, ascertain that it will be an integral part of organizations shortly, with players utilizing it and achieving better results than those lacking it.
However, AR is not only limited to Retail but also holds a massive contribution to make to industries across the sectors. We must wait and see how it unfolds in the upcoming days.